The perfect choice….
It perfectly combines functionality with beautiful environment, which is the continuation of the natural landscape.
It is a great venue for outdoors events that escapes from the mainstream and seals with the magnificence of the space the most important day of your life. Amaltheia hall is surrounded by nature with a strong element of green and gives a sense of freedom and tranquility. The garden, the discreet lighting and aesthetics of the place create a harmonious atmosphere.
It has the entire required business infrastructure combined with the warm human services are the best guarantee for a glamorous event.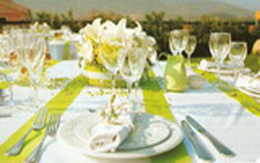 Separate live music,
Fine cuisine in order to enjoy every moment.
The bar next to the fountains, the rock gardens and candlelight, create a romantic environment…..and all these situated at an indoor place.
In AMALTHEIA hall you can comfortably accommodate from 500 to 1000 people.There is no space for any compromise at the most important day of your life…..