Dias Hall

For those who want something special, to escape from the ordinary, the hall DIAS is a modern space for high demanding receptions. Our experienced staff and superior service will completely satisfy every desire of yours and of course your guests.
A friendly and welcoming environment where guests feel like "being at their home".
With impeccable service, an always fine menu – that can be customized to your requirements – live cheering music, is the perfect choice for your reception. The room is equipped with modern audio-visual technology, where apart from the Cretan folk music, can also accommodate v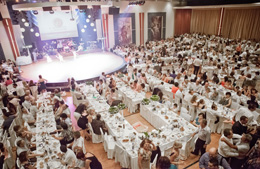 arious other forms of entertainment.
The capacity is from 800 to 1500 individuals due to the fact that there is such the structure of the space so that it can be configured, depending on the event hosting.
An ideal venue for weddings, christenings and any other event you may prefer.
In DIAS hall, apart from all the other services provided there is a bar and a big wardrobe.Moreover at the main entrance of the building there exists a WC for the disabled, as well as an infirmary.Kurites for every single moment of your life, created a suitable place of high aesthetics, making your important events unforgettable memories…..